This month, as a part of our 30-Day Postpartum Workout Programs inspired by real moms and moms to be, we're bringing you free recipes from Nouri, a ready-to-eat meal company offering whole, nourishing meals for each stage of motherhood. OB-GYN recommended, chef curated, ready-to-eat.
Most of us are aware of the importance of eating well throughout pregnancy; you have to make sure you're getting enough vitamins and nutrients to provide for yourself as well as your growing fetus. However, once the nausea and other less pleasant side effects kicks in you might find it difficult to get anything down, let alone meal-prep and search for recipes.
That's why we've put together the 1-day perfect pregnancy recipe collection in collaboration with Nouri, the Pregnancy & Postpartum food delivery service that will cover you every stage of your Motherhood journey. All recipes below will ensure that you stay nourished while alleviating common pregnancy symptoms such as nausea, heartburn and swelling. Best of all, they are just so delicious!
Breakfast: Golden Millet Porridge with Apples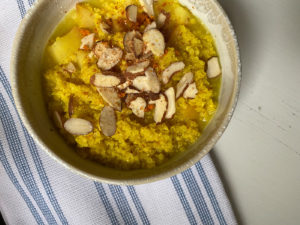 We love this breakfast because it's warm, seasonal and full of nutrients. Millet is an ancient grain that is naturally gluten free and antioxidant rich. Each cup has up to 6 grams of protein, 2 grams of fiber, 8% of folate and 6% iron, all things that are vital in pregnancy! It is a nutritional powerhouse that contains grains combined with turmeric which is an anti-inflammatory and a potent antioxidant. This dish is delicious and a statement to start your day with!
Ingredients:
1 cup of millet

3 tbsp of almonds

1 half of apple, honey crisp – medium dice

1 knob of fresh turmeric
Method:
Add millet to a small pot, with 2 cups of water. Bring to a boil then simmer.

Once millet is cooked – it will start to break apart similar to quinoa – add the apples.
Grate fresh cinnamon and turmeric – ground is fine to use too!
Stir to mix well, simmer until apples are soft.
Add porridge to a small bowl and top with almonds.
Option to grate more fresh turmeric and ginger on top.
Lunch: Kale Cauliflower Coconut Soup
Our beloved kale contains Vitamin A, K, C, B6 and even Calcium and Magnesium! Along with Cauliflower which contains up to 77% Vitamin C of the recommended daily need. Moringa powder is derived from the leaves of the plant which grows in abundance in the Philippines where it has been used as an herbal medicine for many years. These ingredients can help with any swelling and muscle aches you may experience.
Ingredients:
1-2 cups of kale, roughly chopped

1 cup of potatoes, peeled and medium dice
Freshly grated ginger or ½ tsp of powdered ginger
½ cup of diced onion, shallots fine too
½ cup of celery, roughly chopped
1 cup of cauliflower florets
1-2 tbsp of moringa powder
1 tbsp of olive oil or ghee
1-2 tbsp of coconut milk, mixed in at the end
½ cup of chickpeas, added as garnish for protein
Black sesame seeds to garnish, white is also fine
Method:
Add oil or ghee to a small pot, add onions and saute until translucent.

Grate fresh ginger and stir until fragrant.

Add celery then cauliflower then potatoes.

Stir well and add 2 cups of water, or to cover vegetables.

Salt & Pepper to season.

Bring soup to a boil, then simmer for about 20 minutes.

Add kale and more water if necessary.
Add 2 tbsp of moringa powder and simmer for another 15-20 minutes until all vegetables are soft.
Let cool and grab immersion blender or place into blender to mix until smooth.
Place soup in a bowl, add chickpeas, coconut milk and sesame seeds.
Dinner: Shiitake Mushroom Tofu Dumplings with Miso Broth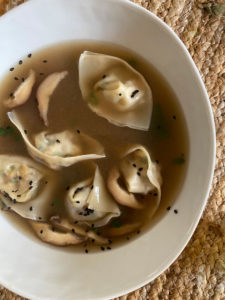 Shiitake mushrooms are the golden ingredient here. It contains Vitamin B5, B6, Zinc, Folate even some protein and Vitamin D! Mushrooms are the only natural plant source of Vitamin D which is vital for strong bones. Vitamin D is primarily received by the sun or in supplement form and it allows your body to absorb calcium more effectively! While miso is made from fermented soybeans – which become natural probiotics perfect for your digestion.
Ingredients:
1 cup of tofu, firm

2-3 pieces of shiitake mushroom, diced small
2-3 pieces of oyster mushroom, diced small
¾ cup of fresh spinach, diced small
1 package of wonton wrappers, square size
1 tbsp of sesame oil
1 tbsp of soy sauce or tamari
1 tbsp of miso paste – any type
1 tbsp of scallions, roughly chopped
2 cups of water and extra water to seal wontons
Method:
Wontons
Grab a small bowl, add shiitake and oyster mushrooms, tofu crumbled with fingers and spinach.

Add sesame oil, soy sauce, scallions then mix well with hands to create the wonton filling.

Place a wonton wrapper onto a small plate. Add filling to the bottom half of the wrapper, then place some water on all sides of wrapper.
Fold wrapper in half then pinch the top half to make a folded wonton, repeat to make 4-5 wontons or however many you'd like in the soup.
Miso Soup
With your wontons made, grab the tofu, scallions, spinach, sliced mushrooms and soy sauce placed to the side.

Grab a small pot, add water, miso paste, soy sauce and scallions – stir well.

Allow to simmer for 15-20 minutes until miso paste has completely dissolved.

Add spinach, mushrooms, tofu and wontons – simmer for an additional 2-3 minutes but not too long so the wontons don't overcook and burst!

Plate wontons into a small bowl, then add the remaining soup on top. Add scallions and sesame seeds to garnish. Enjoy warm!
Snack: Seeded Crackers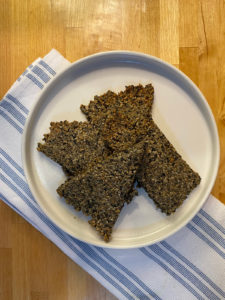 This is the perfect snack because it is GF, vegan and completely nut free as it is made purely from seeds. Pumpkin seeds naturally contain Omega 6s and antioxidants. Chia seeds provide fiber, protein and calcium as a perfect plant based source while the sesame seeds are an amazing source of calcium which is vital for bone health!
Ingredients:
½ cup Pumpkin Seeds

¾ cup Chia Seeds
½ cup Sunflower Seeds
3 tbsp Sesame Seeds
3 tbsp Black Sesame Seeds
1 cup of water
Method:
Preheat oven to 350 Degrees

Add all ingredients to food processor, lightly pulse until consistency of sand
Add ½ cup of water – you might need more or less so add slowly until it is a consistency of wet sand – you may need to pulse a bit more.
Remove the mixture from the food processor and, using a spatula, spread the mixture onto a parchment paper lined sheet pan or oven safe dish. The surface should be flat to allow for the cracker to cook evenly.
Spread to desired thickness, about less than an inch. Use a knife to score so crackers will break easily once baked.
Bake in the oven for 30-45 minutes until edges are browned.
Enjoy with hummus or any spread or dip of your choice!
Get the video breakdowns for these recipes, along with a 30-Day Postpartum Workout Program inspired by Tara Sowlaty, Co-Founder of Wellness Blog How You Glow included with your subscription to FPC Anywhere. Not yet a member? Start your 7 day free trial now.