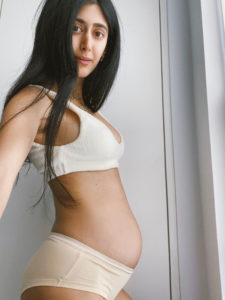 Our newly launched curated fitness programs are inspired by the fitness routines of new and expecting Mamas we love. The 30-day programs are completely customized taking their current fitness level and personal preferences into account as well as what stage they are in their motherhood journey.
Our latest Prenatal Program was inspired by Tara Sowlaty, Holistic Nutritionist, Natural Chef and the Co-Founder of How You Glow, the lifestyle platform that is a go-to for everything related to wellness. She is also an expecting first-time Mother so we were naturally very excited to have a chat with her about her current mood and exercise routine.
FPC: How are you feeling?
TS: Really good, I was meditating today, and I feel really grateful that I am able to move my body since some people can't necessarily do that when they are pregnant.
FPC: We can definitely relate! How far along are you?
TS: I am almost 24 weeks.
FPC: Congratulations! What changes are you feeling in your body in terms of exercising?
TS: I can't really do abs and stuff like that anymore. I was able to up until last week so that's a little challenging and weird. I tried, and wasn't feeling that good, so when I am working out nowadays I am very aware of my core. I've been doing Pilates for years, Yoga and Spinning, so I do have a good core connection, but now I can totally feel that my abs are not connecting. It's the craziest feeling, there's just something in the way! I totally understand why some women get diastasis recti because you can't squoosh it back, there's only so much you can do. It's interesting and I have really been feeling this shift this week!
FPC: Tell us about How You Glow? When did you start it and how did it come about?
TS: I started almost 7 years ago after Jessie and I were introduced. I am a Holistic Chef and Nutritionist and she is a trained Yoga teacher and we were set up on a blind date. I cooked for her and she taught me Yoga and we were just convinced that we needed to do something together!
Initially we wanted to open up a wellness space, there's a bunch of those now but none of those existed back then. That's why we created this space online where we coordinate features on other inspiring people that we find have a glow. We feature everything from profiles to food to fitness and products. Basically anything that we find adds a vibrancy to someone's life, we want to share that on the site and include our expertise.
It's not just about being healthy, it's about being happy and vibrant and including things in your life that makes you feel joy. That's what we find healthy! We don't think it's just healthy to eat healthy, to run every day and drink green juice and have chia seeds. We didn't find that as a happy, healthy life so we want to share our approach to happiness, health and wellness and that's what it's been for the past seven years. We have done a ton of features and travel guides and worked with awesome brands. It's been a fun adventure!
FPC: We love it! What was your exercise routine like pre-pregnancy? Any favorite studios?
ST: I've been a long time Soul-Cycler since back when they had just one studio, I think it's been twelve years now. I love hot Pilates in LA and I felt that it really changed my body. I got into it about two and half years ago before my wedding and I really love it. I like a studio in LA that does a 30-minute reformer class where it's dark and you move to the music. I am very music focused! Hot pilates and Soulcycle has really fun music too!
When Covid started I luckily got into some of the online platforms. I love The Class, it's full-on therapy and it's really amazing! I also love Meghan Roup, I think that she is really great. She has good energy and really cares, she does Instagram lives every day and it makes you feel accountable too which I like a lot. It's hard but I've been very grateful to her and her program. I've been continuing them through the pregnancy but I am noticing that I would like something a little more pregnancy focused now.
FPC: What areas do you like to focus on when you exercise?
TS: I am pretty much full body. I love working on abs, bootie, arms – everything. I love cardio and I love dance movements. I also like lightweights but not heavy weights.
FPC: Got it. Do you feel like you have to sweat to get an effective workout?
TS: No, I definitely did, because I was so used to going to Soul Cycle and hot pilates, which makes you literally wet. I think thanks to Covid I've kind of gotten over that. I've been working out from home and I don't really get sweaty. I love pilates and you might not necessarily sweat while doing that. I am not so much a megaformer person but I love hot pilates. I was a very weak duckling before I started, I couldn't even lift 20lbs. I was not strong at all. I have really worked on that and I feel so much better about myself and better in my body so it's bizarre now not feeling your abs connecting anymore. I feel like there is a hole, it's a very weird feeling!
FPC: Totally! Do you use weights when working out? Or do you prefer body-weight only?
TS: I like light weights and body weight.
FPC: Are you familiar with your inner core unit, pelvic floor and diaphragmatic breathing?
TS: Yes very much so. I am also a trained Yoga teacher and when we trained it was super linked to diaphragmatic breathing. I did a 200 hour intensive in Bali and the whole time we were getting very used to that!
FPC: Oh good! How long are your typical workouts? How many times a week?
ST: It depends, I probably workout 30-45 minutes a day, like 6 times a week but I break it up in 20 minute sessions. I have a bike at my house I just sit at for 15 minutes, or I go for a 15 minute walk so I think that I generally move for 45 minutes to an hour including walks. I think I have gotten used to working out in smaller segments.
FPC: What does your self care routine look like right now with everything going on with your pregnancy, Covid and work?
TS: I feel very lucky that even before getting pregnant and Covid self care was just a really big part of my routine with the nature of my job. I meditate every day, I drink a lot of water, I eat healthy, I have my morning and night routine with my cleaning products, I am very diligent with that. I always brush my teeth and do tongue scraping, body brushing, those are just things that I just always do. Maybe I upped it a little since I got pregnant, oiling up my body and body scrubbing more. I always had a very clean beauty product routine too, it feels very natural for me and I don't think of it as self care, I just ingrain those things into my daily life seamlessly.
FPC: What are some of your favorite products? Do you have any pregnancy products that you use?
TS: I use a bunch of great pregnancy body butters. There's a brand called Eske. Hatch also has a really good body butter. Uma oil is a really amazing body oil. There's also a brand called Earth Mama that is really great too. I use a really thick one at night and an oily one for daytime. I don't want to get stretch marks since I already have them from just growing in High School, it's genetic.
The 30-Day Prenatal Program inspired by Tara Sowlaty is now included with a subscription to FPC Anywhere. Not yet a member? Start your 7 day free trial now.
This month you can also enjoy free recipes from Nouri, a ready-to-eat meal company offering whole, nourishing meals for each stage of motherhood. OB-GYN recommended, chef curated, ready-to-eat.