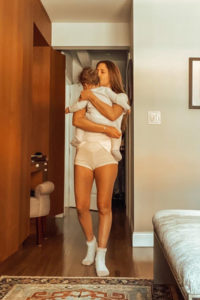 Our newly launched curated fitness programs are inspired by the fitness routines of new and expecting Mamas we love. The 30-day programs are completely customized taking their current fitness level and personal preferences into account as well as what stage they are in their motherhood journey.
Our latest Postpartum Program was inspired by one of our favorite wellness coaches and bloggers, Allie Hiller @healthyalibi. Allie not only has a focus on fitness, wellness and nutrition, but also on the realities of motherhood and life postpartum. To create a balanced and challenging program designed carefully for her we had a chat to get the details on her current fitness goals and routines.
FPC: What was your exercise routine like pre-pregnancy? Did you have any favorite studios?
AH: Pre-pregnancy I was doing HIIT 3-4x a week and sculpt workouts the other days. I loved that post-workout endorphin high and moving my body was like breathing to me. It was the first thing I did when I woke up every morning. My favorite studios pre-pregnancy were Barry's Bootcamp, Physique 57 and Tracy Anderson.
FPC: Yes, we can totally relate to those post-workout endorphins! What areas do you currently like to focus on when you exercise?
AH: I like to get in both cardio and strength. I work all muscle groups throughout the week, but definitely my favorite area to tone is abs 🙂
FPC: (Laughs) We've noticed 🙂 Do you feel like you have to sweat to get an effective workout and do you enjoy sweating when you exercise?
AH: I personally love sweating and do need to sweat in order to feel like I got a great workout. Although in recent years I've found pilates and barre to be just as effective; I don't sweat as much, but am always so sore the next day!
FPC: Do you use weights when working out? Or do you prefer body-weight only?
AH: I like to workout with heavy weights, but during quarantine I have actually discovered the challenge of body weight exercises as well. They can be so effective as long as you practice proper form!
FPC: Are you familiar with your inner core unit, pelvic floor and diaphragmatic breathing?
AH: Yes! These exercises were SO important throughout my pregnancy, labor and postpartum period to help heal and recover my core!
FPC: We couldn't agree more. How long are your typical workouts? How many times a week do you exercise?
AH: Typically I workout for about an hour 6-7 days a week.
FPC: Lastly, tell us about what your self-care routine looks like right now?
Right now it's definitely hard to find time for self-care while caring for my son, David, but when I do find the time I love to take a hot bath with a glass of wine or cup of tea! I also love to meditate anywhere from 2-10 min, depending on the day. I also think there is value in just zoning out and binge watching my favorite shows – I find this so relaxing!
The 30-Day Postpartum Program inspired by Allie Hiller is now included with a subscription to FPC Anywhere. Not yet a member? Start your 7 day free trial now.