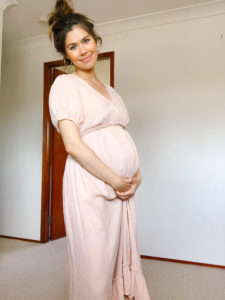 Our curated fitness programs are inspired by the fitness routines of new and expecting Mamas we love. The 30-day programs are completely customized, taking their current fitness level and personal preferences into account as well as what stage they are in their motherhood journey.
Our latest prenatal fitness program is inspired by Zoe Martin, founder of Bella Mama, the nutritional company dedicated to providing healthy choices and advice for modern women each step of their pregnancy. After personally experiencing health issues, Zoe changed her diet and lifestyle which eventually led her to pivot from a career at the United Nations to a certified health coach with a focus on pregnancy health and wellness. We had the pleasure to learn more about Zoe, a native Aussie living in NYC, and how a mother of two (soon 3!!) balances her family life with self care.
FPC: How far along are you in your pregnancy?
ZM: I'm 29 weeks on October 1st.
FPC: How old are your babies?
ZM: My son, Elijah, is 4 years old and my daughter, Arabella, is 2 years old.
FPC: Did you always know you wanted a big family?!
ZM: Not until my mid-twenties when I was diagnosed with an autoimmune disease called PCOS. When a doctor told me that it would be near-impossible for me to get pregnant, my immediate thought was "hold on a minute, I do want kids… lots of them!"
FPC: We are so happy for you! How have you pregnancies differed, if at all?
ZM: In my second (and now my third) pregnancy, I have to be way more intentional about self-care and looking after myself. It's not as easy to find the time like I could in my first pregnancy to prepare healthy meals, work out whenever I want… or sleep in whenever I want! I've learnt that I still want to do those things that make me feel good, but I have to be super intentional about carving out time to prep healthy meals, work out and schedule a sleep in when my husband can look after the kids!
FPC: What was your exercise routine like pre-pregnancy? Any favorite studios?
ZM: I was a regular at Soul Cycle and Equinox. I loved running and cycling 3-4 times a week and then light strength training in a barre, yoga or pilates class 2-3 times a week.
FPC: What areas do you like to focus on when you exercise?
ZM: Arms, butt and thighs.
FPC: Do you feel like you have to sweat to get an effective workout?
ZM: Yes, I love to sweat. I've had to be more mindful this pregnancy because of a small tear in the placenta which is classified as high-risk. This pregnancy, I haven't been able to do cardio unless it's walking but I still want to feel like I've worked my muscles and got a good stretch in.
FPC: Do you use weights when working out? Or do you prefer body-weight only?
ZM: I love using light weights.
FPC: Are you familiar with your inner core unit, pelvic floor and diaphragmatic breathing?
ZM: Yes, I try to practice it when I can remember.
FPC: Good! How long are your typical workouts? How many times a week?
ZM: Not long as I'm mostly at home with my 2 kids. About 20-minutes, 3-4 times a week.
FPC: You've written and spoken about how pregnancy has changed your expectations and perception of your own body for the better. Can you share a bit about that and if it's impacted your workout routines at all?
ZM: Pregnancy is a strange time. I remember my body changing so dramatically during my first pregnancy and feeling so out of control with those changes. They seemed so foreign to me. I think most women go through something similar, especially in their first pregnancy. It wasn't until I embraced the changes that I really started to love the process of pregnancy and what that meant. I felt proud of what my body could do. For the first time, I learned to value my body on what it could do instead of how it looked. It had a huge impact on how I worked out. Instead of weight management being the primary focus, my workouts became about strength and taking care of myself from the inside out. That's why I love FPC workouts – you learn to look after your pelvic floor while you work out, something that has great benefits for your body – especially after baby is born!
FPC: We couldn't agree more! What does your self-care routine look like right now?
ZM: A morning coffee to myself while my husband is with the kids. I've fallen in love with Gua sha with face oils once the kids have gone to sleep. And I splurge on a prenatal massage whenever I can!
The 30-Day Prenatal Program inspired by Zoe is now included with a subscription to FPC Anywhere. Not yet a member? Start your 7 day free trial now.
Plus, get exclusive access to the Bella Mama Guide at 20% off. The Bella Mama Guide empowers you with holistic pregnancy health advice, rooted in evidence-based nutrition that goes beyond what you read in pregnancy blogs and apps. Use code FPC20 for this exclusive discount.