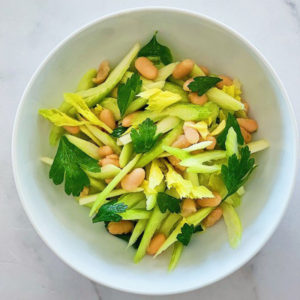 There are those days where your brain tells you that you should​ be eating a salad, but your everyday basic salad just does not sound appealing at all! It seems like you could force yourself to eat something you're really not in the mood for, or you could eat whatever you want and then feel guilty about not eating enough veggies. If you're also struggling with this internal battle, you could try this super crunchy, always satisfying white bean and celery salad instead.
I love this salad! It is a go-to when I'm in that spot where I know what I should ​eat but it doesn't necessarily translate into what I want​ to eat. It's full of crunchy snappy celery, smooth and creamy white beans, and a lemon-y garlicky dressing that always tastes fresh and just a little zippy. The celery provides crunch of course, but also plenty of fiber to keep your digestion on the right track. It's also a natural diuretic which means it helps relieve bloating (and who doesn't need a little bloat relief?!). White beans should definitely be a pregnancy pantry staple. They have the perfect amount of protein and carbs to keep your appetite satisfied – not to mention they are high in folate, copper, iron, and magnesium! Folate is especially critical for prenatal nutrition, as is iron. Magnesium is important for hormone balance and it also serves as a natural muscle relaxer (fan of epsom salt baths for sore muscles?? That's just magnesium in salt form!). The dressing is made from lemon juice (hello vitamin C!) and a little raw garlic — both boost your immune system and garlic also happens to be anti-inflammatory.
This salad is a real powerhouse — especially for those mamas in the second and third trimester — giving you a big dose of everything you need, and nothing that you don't!
White Bean and Celery Salad
(2​ servings)
Ingredients
6-8 Stalks of celery, thinly sliced
1 15 oz can white (cannelini) beans, drained
¼ cup parsley leaves
2 tsp fresh lemon juice, from ½ lemon
1 Tbsp olive oil
½ tsp salt
¼ tsp mashed or very finely grated fresh garlic (about ½ clove)
Recipe
Step 1: In a medium bowl, gently combine celery, beans, and parsley.
Step 2: Add lemon juice, olive oil, salt and garlic, and mix thoroughly with your fingertips until all the celery and beans are coated and everything is mixed together – taking care to evenly distribute garlic and mix in any clumps.
And, enjoy!
Contributed by Alfia Muzio, founder of Vestal, a company that is dedicated to helping families foster confidence (and deliciousness) in the kitchen. Check out @vestal_life for more inspiration and recipes.