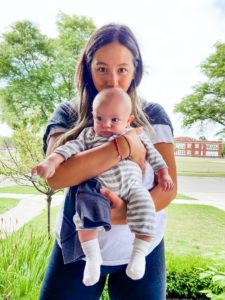 Our curated fitness programs are inspired by the fitness routines of new and expecting Mamas we love. The 30-day programs are completely customized, taking their current fitness level and personal preferences into account as well as what stage they are in their motherhood journey.
Our latest postpartum program was inspired by Sarah Larson Levey, founder of Y7 Studio, the non-traditional candlelit yoga studio that mixes hip-hop music with your flow. Y7 started out as a pop-up and has since expanded rapidly, with several locations throughout the U.S. as well as an online studio. Besides being a highly successful entrepreneur, Sarah also recently became a mother for the first time. We had a chat to get the details on Sarah's exercise preferences and self care routine.
FPC: When did you have your baby?
SL: He was born on June 11th and I am almost 4 months postpartum.
FPC: Congratulations! Have you been working out at all since having a baby?
SL: I have been doing the FPC postpartum workouts which I love, some of the prenatal stuff too because it feels safe for me without overextending. I also have a friend who is a trainer so I have been doing some weights with him, some circulative stuff and just walking. I am also getting back into Yoga this week but it's of course a time thing. My kid doesn't like to sit still so I can't do the mommy and me stuff. I do have the time twice a week to workout when my parents watch the baby.
FPC: What was your exercise routine like pre-pregnancy? Did you have any favorite studios?
SL: My exercise routine before was kind of sporadic, it was all about when I had the time to do it. I hate working out, I just don't like it. That's why Y7 has all these things to trick you into doing yoga, it's hot, it's the music. I'm always happy that I worked out when I am done but it takes a while for me to get there.
Growing up I played sports so for me the idea of going to a place to just workout… I was just never able to do it. I never cared about being muscly… I just never had a goal like that, to have a six pack or something like that, it was always just to look and feel good in my clothes.
It was mostly just Y7 and NY Pilates, which happened to be below my office. I love pilates, and finding that small muscle, it was always really effective for me since I have sciatica. Intense running doesn't work for me, I love Soulcycle but depending on the teacher it wasn't always great for my back.
I saw my body the way I wanted it from pilates, it was tightening and strengthening, and that is what I look for. I am very lazy when it comes to working out which you probably got by now (haha).
FPC: Haha, yup got it! How about during pregnancy?
I didn't do anything for the first trimester, I was so ill, I just ate bread all the time which was great but also terrible. I would throw up in the morning and feel like I was hungover all day. I was so relieved when the second trimester came around. A lot of people I know around me were pregnant and I was the only one that got sick, but around 15 weeks I started feeling better. I started going to FPC three times a week and walking on the treadmill twice a week.
I was really good about working out when I was pregnant because I knew post birth that I would be so tired and overwhelmed so I wanted to prepare my body to do the most I could and to put myself in the best position.
I will say that my labor was hard, but the delivery went surprisingly well. I tribute that to doing a lot of FPC. I was in labor for 32 hours and I was having a lot of back labor, so I wasn't getting a break. At some point my contractions were lasting for 4 minutes and the nurse told me no wonder that I was screaming for my epidural! The epidural made the pain bearable. Because of the Pump and Kegel®, I knew how to control my muscles even though I could not necessarily feel them and I truly believe that is one of the main factors for why I did not need stitches. I was so focused on my breathing and breathing everything down and that was all thanks to the FPC classes. You truly don't get it until you're there, you need to practice that long exhale to breathe out the baby. It made such a difference!
FPC: That's amazing! What areas do you currently like to focus on when you exercise?
SL: My butt, my inner thighs, my abs, my upper arms and back. I say them and then end up realizing it's my full body aside from my ankles and hands (haha).
FPC: Do you feel like you have to sweat to get an effective workout and do you enjoy sweating when you exercise?
No.
FPC: Do you use weights when working out? Or do you prefer body-weight only?
It depends on what I'm doing. I think being in the [fitness] space I understand the difference. So body weights are more for bone health, and strength and weights are more for muscles. They both provide different things, there is something psychological about it right. I added those 1lb ankle weights and it feels so much harder. I am all about the psychological manipulation of the weights.
I have been very aware of my back and upper back since my pregnancy because you get so top heavy. Because of my sciatica I've always been very aware of my lower back but my upper back I was never really aware of before pregnancy. You really have to focus on working your back. It's hard to use weights but it's so good. I loved the little cardio blasts at FPC, the 30/60/90 bursts a hundred percent prepared me for labor and delivery. It was incredible, the way the moves are targeting those tiny muscles. I like that, they feel much more effective than if someone tells me to lift a 20lb weight!
FPC: Yes, totally! Are you familiar with your inner core unit, pelvic floor and diaphragmatic breathing?
SL: Yes, from Pump and Kegel®, and yoga and pilates. I have friends who cannot understand that when you inhale your stomach should get bigger and when you exhale it should shrink. So helpful!!
FPC: And so important! How long are your typical workouts? How many times a week do you exercise?
SL: I would say, since quarantine and doing at home stuff, typically 30-minutes, four times a week. I try to do something every day.
FPC: Lastly, what does your self-care routine look like right now?
SL: Sleep, anytime I can and everywhere I can! Couch, floor, etc! As a mother, you have to pay attention constantly. [My son], Lee, he's the best and I'm obsessed, but it's a lot. Your life changes but not as dramatically as people make it out to be. I haven't done my hair in years anyway, so it's fine!
I am currently in Michigan and I don't have any beauty places here, so I've just been doing the do-it-yourself thing when it comes to skincare and all that. We drove out here when they changed the hospital policy in NYC and I gave birth here. I've had two miscarriages in the past and I wanted my husband to be there in case something would happen. I just didn't want to be alone. As soon as they closed the public schools we closed all our studios and left. We didn't know anything about the virus at that point.
FPC: It's been quite a year… Boutique fitness has also been hit hard by Covid, how have you managed running your business through such a challenging time while also welcoming your first child?
SL: Y7 is 7-years old now and for the first 3 years it was just me and my husband. I am used to not really knowing and not having financial security. The entire team, myself included, took huge pay cuts. We gave up our [apartment] lease in August, but we can always come back. Fortunately for me I am obsessed with my team. We have built this from nothing, with zero budget and no marketing and we can do it again. It will be better this time around because I have my team with me. It's been hard but they made all the difference. I am hopeful about the future and what we can accomplish together.
The 30-Day Postpartum Program inspired by Sarah is included with a subscription to FPC Anywhere. Not yet a member? Start your 7 day free trial now.