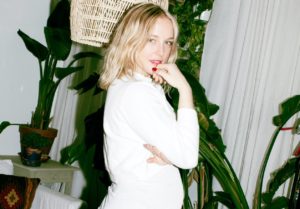 Our newly launched curated fitness programs are inspired by the fitness routines of new and expecting Mamas we love. The 30-day programs are completely customized taking their current fitness level and personal preferences into account as well as what stage they are in their motherhood journey.
Our latest Prenatal Program was inspired by Danielle Duboise, co-founder of Sakara Life, the organic and plant-rich meal delivery program that you're likely seeing everywhere. Danielle is currently expecting and also the mother to a two-year old girl. She let us into her workout and self care routine (this got interesting!), how she balances work and family, and how her second pregnancy is comparing to her first.
FPC: What was your exercise routine like pre-pregnancy? Did you have any favorite studios?
DD: I definitely love Pilates and cycling! I am a Soulcycle fan but when I got pregnant in March, right in the middle of lockdown, of course everything changed. Nowadays I do Pilates at home and also with Erica Bloom.
FPC: What areas do you currently like to focus on when you exercise?
DD: Before pregnancy my focus was all over with more attention on arms and inner and back of thighs. Nowadays, I unfortunately have injuries from doing too many clam shells. I can't do…a lot of focus on outer and upper hips. Currently, my main focus is on arms and thighs.
FPC: Do you feel like you have to sweat to get an effective workout and do you enjoy sweating when you exercise?
DD: No, but I do like to feel a burn. Personally I wouldn't call yoga a workout, it depends on the class and it of course can be but for me it's more like a mental workout.
FPC: Do you use weights when working out? Or do you prefer body-weight only?
DD: I stick to body-weight and sometimes I use 1lbs. I definitely don't mind using light weights.
FPC: Are you familiar with your inner core unit, pelvic floor and diaphragmatic breathing?
DD: Yes from FPC! I do the pump and Kegel 🙂
FPC: We're very pleased to hear that! How long are your typical workouts? How many times a week do you exercise?
DD: Right now I workout for 30 minutes or under and some days I am lucky if I get 10 minutes in. I try to do something every day, even if it's only for 10 minutes.
FPC: Tell us about what your self-care routine looks like right now?
DD: I have been going to bed early with my daughter. I just lay in bed with her and read and that is not a time to look at my phone or catch up on work like it used to be. I have felt a lot more tired this pregnancy. During my first pregnancy I had more opportunities to relax, sleep in, get pedicures and acupuncture..this pregnancy I haven't done any of that. Time has gone by much faster and I can't believe I am already halfway through. I just don't have the R&R that I think every pregnancy deserves, but I am planning on catching up on that during the second half of this pregnancy.
I have also been spending a lot more time on my tooth care routine and I've found that it's where you put your energy that matters. I use Living Libation's 8 step program and I really feel a difference. I also take a lot of walks with my family, both in the morning and at night.
FPC: Will you have any changes in work as the founder of a booming company?
DD: We get 3-months maternity leave at Sakara and even the founders will take that time. A few weeks before my last labor I started working from home to downshift but of course now everyone is working from home. Closer to birth I try to do less technology and during my maternity leave I will stay updated but not work. I still like to know what's going on but people know not to rely on me. We have been doing this for ten years now so I am very lucky to have a strong leadership team.
FPC: Lastly, tell us about your prenatal diet?
DD: I do Sakara meals twice a day with lunch and dinners that are heavy on greens. Breakfast I have with my family. I also like to add a variable meal to get nutrition, something like a smoothie, coconut yogurt with superfoods or a bar with added superfoods.
The 30-Day Prenatal Program inspired by Danielle is now included with a subscription to FPC Anywhere. Not yet a member? Start your 7 day free trial now. Plus, all subscribers are also getting early access to Sakara Life's health coaching service with a free consultation when you sign up for FPC Anywhere.