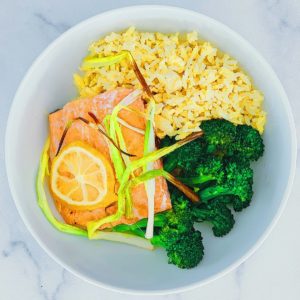 Fish is one of those things that people just know they should eat more of, and also one of those things that so many new cooks are afraid to try. I'm here to tell you it couldn't be easier! This is one of my favorite quick, easy, simple meals that every member of my family can enjoy. I love salmon because it's just delicious and readily available at most markets. It doesn't require an extra trip to a specialty store, and of course it's super rich in omega-3's. Everyone needs more omega-3's but they are particularly important for prenatal nutrition because they help keep mama's joints strong and healthy to support her during pregnancy and are crucial for baby's brain development. Bonus? Salmon is an overall nutrient dense food (i.e. it's packed with tons of good-for-you stuff) and is also high in vitamin D (important for bone health and immunity).
I absolutely craved salmon when I was pregnant, but weirdly enough I craved it raw of all things! Raw salmon isn't much of a recipe but this go-to roast salmon is almost as easy. Plus it's super fast, so if you're short on time or energy, it's a cinch to get dinner on the table. You can dress it up with some herbs and/or double up on healthy fats by adding a sliced avocado to your plate. Serve it with a crunchy veg like broccoli and some nutty brown rice? That sounds like a winner to me! Maybe it was all that raw salmon I couldn't stop eating during pregnancy, but now my kids love to eat it too and this dinner is one of their favorites. This is a recipe that you'll master quickly and make over and over again!
Baked Salmon
*serves 2-3
Ingredients:
2-3 fillets of salmon – about 6 oz each

1 bunch scallions, cleaned and sliced lengthwise

1 lemon, seeds removed and sliced into thin rounds

1-2 Tbsp oil (olive oil, coconut oil, or vegetable oil)

Salt, to taste

(optional) 1 small handful of chopped fresh herbs like parsley, dill, or cilantro
(optional) 1 small avocado, thinly sliced
Method:
Preheat your oven to 400F.

Drizzle olive oil on the bottom of a small baking dish and place salmon on top. Season with a little salt.

Arrange lemon slices and scallion tops on top of salmon.

Roast salmon in the center of the rack and roast until just barely opaque all the way through, about 15-20 minutes, depending on the thickness of fillets. To test doneness, slide a small thin knife in the middle of your fillet and just peek inside to see if it is opaque all the way through. It should flake easily and a knife or fork should slide in with no resistance.

Serve with herbs, extra lemon, and avocado or broccoli and brown rice for a complete meal!
Contributed by Alfia Muzio, founder of Vestal, a company that is dedicated to helping families foster confidence (and deliciousness) in the kitchen. Check out @vestal_life for more inspiration and recipes.