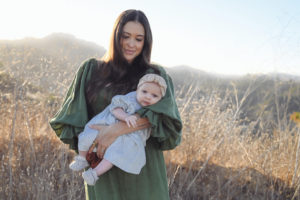 Our newly launched curated fitness programs are inspired by the fitness routines of new and expecting Mamas we love. The 30-day programs are completely customized taking their current fitness level and personal preferences into account as well as what stage they are in their motherhood journey.
Our latest Postpartum Program was inspired by Heather Roma, Founder and Producer at the creative agency The Westside Collective, and owner/designer of AMORROMA and Growler Goods. Heather's brands have been featured in Sports Illustrated Swimsuit, In Style, People, Sunset Magazine, Martha Stewart Magazine, and on HGTV, to name a few. Her brands have been found at Free People, Urban Outfitters and other well-known retailers. One of her latest creations is a collection of EMF-blocking phone pouches (get 10% off with code FF10!).
Besides having an impressive professional background, Heather is also a recent Mama of two. How does she define self-care and does she have any time for working out? Read on below to get the full scoop.
FPC: How many months postpartum are you? How are you feeling?
HR: Almost 2 months! I'm feeling like I'm getting back to normal, but when I don't take my placenta pills I definitely notice a difference. I feel a little down and overwhelmed. I never had any depression issues but I do notice a shift in my mood when I don't take them. It's this thing that you had in your body for nine months and then it's just gone with all these nutrients so I definitely believe in taking them if you can!
FPC: Very interesting! This is your second child. How was this pregnancy and labor different, if at all, from the first one?
HR: It was completely different! I never found out the gender, but both pregnancies I carried about the same so everyone thought I was having a boy, I was really big. I ordered maternity jeans in week 3, it was really crazy! She wasn't a huge baby but I guess I was having a lot of liquid, more than 6 people asked me if I was expecting twins (lol)!
From the beginning I knew that I was fertile that day and there was a misunderstanding with my fiancé so I was very aware! Day 5 I felt implantation cramping so it was very different right from the start. Last time I was pregnant I was 35 and this time around I was 40. I don't know if it was my age or because it was a girl or because of her personality. My daughter is very demanding as opposed to my son who was so easy. She was moving a lot and I felt very tired, just weak and achy.
FPC: Did you workout during your pregnancy?
HR: I hiked and did pilates but only in the beginning due to how I was feeling. I walked a lot with my son because I wasn't as tired. With my girl I only did a little bit.
FPC: What was your exercise routine like pre-pregnancy? Did you have any favorite studios?
HR: My favorite studio was Pilates Platinum. It was the best shape I had ever been in, I was going 2-3 times a week and I was biking a day in between. It was such a good workout! Pilates and hiking is my favorite hands down and I'm still doing that.
FPC: What areas do you currently like to focus on when you exercise?
HR: I've always had a midsection thing, maybe because I go to the bathroom irregularly (I've gone once a week my whole life). I've always had a larger middle section and extra fat there which is why I love pilates since it focuses on the center. I've always been skinny and my butt is non-existent, so I don't really need help there except from pumping up my butt. So mostly my midsection and upper body is where I like to focus. My hips and legs are skinny!
FPC: Do you feel like you have to sweat to get an effective workout?
HR: No, I just like to get my heart-rate up a little bit. Pilates really does it, I feel like I'm really working those tiny sections that make a difference.
FPC: Do you use weights when working out, or do you prefer body-weight only?
HR: I've been liking the weights because I think it's comparable to using the pilates machines. I got the ankle weights, the sliders, and the bands, which I like. I love the little compact equipment!
FPC: Are you familiar with your inner core unit, pelvic floor and diaphragmatic breathing?
HR: No, not really. I also don't know if ever had diastasis recti, for me it's a new thing that I heard of this year!
FPC: We'll help you with that! How long are your typical workouts? How many times a week do you exercise?
HR: I'm trying to do 5 days a week of 15-30 minutes, and if I can go for a hike for 1-2 hours twice a week that's great too. Nowadays it's more like 0-1 times a week, but I prefer shorter workouts.
FPC: Lastly, tell us about your current self-care routine.
HR: There's not much of that going on right now, I'm lucky to get a shower every other day (lol)! Every morning I do a face wash with the Wildling Empress Stone and that's a non-negotiable thing for me. I also got the Wildling Aura Stone, which is for the body and if I have the time I do a dry-brush before showering, and an oil and the aura stone after. It's amazing! This weekend I also had a massage. I have someone that comes to my house. The way I sleep and nurse the baby creates a lot of stress on my neck and back so that's really painful. Besides that, I also make sure to get my alone time for when I can catch up on my TV shows, I need my personal space!
The 30-Day Postpartum Program inspired by Heather Roma is now included with a subscription to FPC Anywhere. Not yet a member? Start your 7 day free trial now.