As COVID-19 continues to impact the world, we're compelled to connect you with one another more than ever. One area that felt most pressing to us is for our expecting mamas and the added complexities and uncertainties around your birth plans.
The first of these stories is from Emelie, an FPC mama that is 37 weeks at the time of this posting. Her birth planning began way before COVID-19 was even a thought.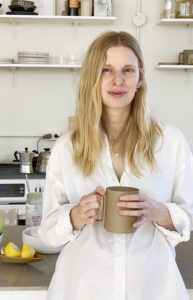 My pregnancy was unexpected. It wasn't unplanned, but I felt it would be far away. We were living in a temporary rental waiting to close on a short-sale fixer upper in the Hamptons. More in our lives was in transition than not. The pregnancy led us to radically simplify.
Both my husband and I want kids but beyond that I've never had any desire to be pregnant, I've never pictured myself pregnant.
Most of my life I've lived with anxiety and depression and the weeks before I discovered we were expecting I was feeling very sad and anxious, I guess my body knew the change before I did. Our life at the time, and my mental state, forced us to make some tough choices to simplify and remove uncertainties, and we decided to move back to the city.
Beyond trying to manage my day-to-day emotions, the doctors appointments became a thing. Having not grown up in the US, I'd been fortunate enough to have had very few interactions with the healthcare system here. That also meant that I had very little familiarity with it. From our first prenatal visit, I felt like I was already failing as an expecting mother and my husband felt like an unnecessary accessory (and he's the excited one, poor guy). I felt judged that I hadn't gone running for an ultrasound the day I found out I was pregnant and now, it seemed, my whole pregnancy plan was "off track."
As first time parents neither of us knew what questions to ask. We were reliant on our doctors to educate us, and with that off to an odd start at best, we felt uncomfortable with how to handle decisions going forward. And that only included the questions we knew about. Ultimately, I was left feeling even more overwhelmed. The actual birth itself was already scary to me. As I started to get a picture of the hospital process – with its rules, regulations and business objectives – I felt trapped in a situation I had little control over.
I wanted to be excited, but as the pregnancy progressed into the second trimester all I felt was sadness and anger. One morning I randomly came across a podcast on home birth. It changed everything for me
It wasn't so much that I had found answers or that I realized that I wanted a home birth. It was the realization that I had options. This opened up a new way of thinking, where I explored my priorities and fears. I realized, for me, the highest priority was to feel in control (hello anxiety), to be able to visualize the birth and surround myself with people that I felt comfortable with and those I could trust (nothing personal, but a level of trust I found difficult to achieve with a rotation of doctors at my current OBGYN).
My mindset changed, I read a lot, talked to friends, doulas and midwives, I asked all my questions, I shared my fears. I felt informed.
My husband and I put together a list of four birth plan options (and contingencies), and a week later — in week 28 — we decided the best plan was a home birth with a midwife and doula. I felt like a different person.
Beyond a new plan and the new found control, I no longer felt alone. Neither my husband or I are from NY and our support system here is limited. Finding a doula and midwife that I felt comfortable with was huge.
Fast forward to a week later when NYC shut down for COVID-19 and the stakes completely changed. Our safety concerns and contingency plans are not the same. The limited information and changing hospital rules made everything uncertain. We're having tough conversations when there is no data or track record, and it's scary. We're putting so much more trust into the people we've hired to make the right decisions in completely new and foreign conditions. With all the uncertainty we focus on one milestone at the time; like getting to week 36 (anything earlier would require going to the hospital for birth).
My husband and I, and the sweetest (and best emotional support) dog are now eight weeks into self-isolation. We watch my belly grow. We cook, we laugh, we dance, and somehow I've never felt calmer. The situation has made me slow down, and appreciate a simpler life.
Our apartment is still a work in progress —our sofa is stuck in a warehouse outside the city, and the nursery is only half finished. But that's okay. We're together, in a place that feels like home, we have everything we need. We're safe and healthy.
When our baby is ready, we hope to welcome him home to our 6th floor West Village walk-up and I wouldn't have it any other way.
If things change, we will deal with that too.
The situation and uncertainties I can't change, but I made my own plan, and I will have final say. That has put me at ease and was the key for me.
—
Emelie grew up in a small village in the south of Sweden. She attended Art School and studied Graphic Design, which brought her to leave Sweden for San Francisco in her early twenties. After about a year in San Francisco as a design intern she moved to London where she spent five years in advertising and fashion. Looking for a change she moved to NYC in 2013 where she shortly after met her husband in a coffee shop. He had just moved back from LA, and together they made NYC home.A couple of years in, she left her full-time job to freelance as a creative director and product designer. Alongside freelancing she founded the sustainable lingerie brand, Liass.