'Eating Right' can be a very generic term. It clearly has different meanings in different phases of life. For pregnant and new moms, many things take entirely different forms. For example, a woman who has been active throughout her life and has been working out extensively earlier, some exercises may suddenly start to feel way more exhausting after getting pregnant. Hence, she is recommended to adapt the workouts, keeping in mind the body's needs and strength. In the same way, nutritional needs can change drastically for a pregnant mother. Eating small portions more frequently along with appropriate snacks is important to maintain healthy energy levels, especially when actively working out.
I am a mom to a toddler and a newborn. For me staying active played a huge role in staying healthy during my pregnancies. Being a nutritionist I also understand the importance of fueling my body. Here I share some of my favorite pre and post-workout snacks for pregnancy.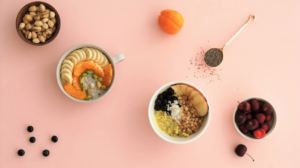 Pre-Workout snacks
Just before a workout, it is important to have foods rich in complex-carbs for slow-release of energy during and after the workout. The key is having a small meal free of saturated fats, and refined-sugar. The biggest mistake women can make is eating a cookie, or a muffin, just before the workout for quick energy. Simple sugars used in such foods breaks down quickly resulting in a quick fatigue. Here are 5 snacks that I found healthy to consume:
Multigrain or rye toast with avocado and lemon
Rye and multigrain flour have complex carbs, while the avocado is rich in mono-saturated fats, fiber, and vitamins and minerals such as B-vitamins, vitamin K, potassium, copper, vitamin E, and vitamin C. It also has a smooth and creamy texture which is very filling and satiating at the same time. Adding some lemon helps ease nausea that many moms feel during pregnancy.
Fruit medley with sunflower seeds and raisins
Having a bowl full of chopped fruits like bananas, apples, and berries, helps to provide carbohydrates and antioxidants to the body, which are important during a workout. Sunflower seeds are superfoods for pregnancy, being rich in many vitamins and minerals. Raisins may help in relieving constipation during pregnancy.
Soaked nuts with milk or mylk
One of the easiest snacks for expecting mom is having nuts soaked in water overnight, with a glass of milk. This combination provides the mom with all the good fats and vitamins from nuts, along with calcium from the milk. It will also keep her hydrated during the workout. Soaking some nuts like almonds promotes easy digestion and enhances nutrient absorption.
Baked sweet potatoes with pasteurized cheese
Sweet potatoes are rich in complex-carbs, delicious, and have abundant fiber, potassium and vitamin A. Cheese is rich in protein and calcium, but should be consumed in moderation due to high fat content.
Granola with yogurt
Granola with yogurt can provide moms with many essential nutrients along with clean energy for the workout. It is important to choose a granola that is free of refined-sugars and is dry-roasted. Some granolas also include lots of nuts and coconut, which can be great during pregnancy.
Post-workout snacks
All the pre-workout snacks I mentioned above work great after the workout too, but I also love smoothies as they provide nutrients along with hydration. Go for your favorite smoothie, but make sure you add fruits, greens, protein, and good fats. Here is one of my favorites:
Mixed Berry Coconut Smoothie
1/4 cup yogurt

1/4 cup milk/mylk

1 scoop vegan protein powder (optional, whey protein is generally not recommended during pregnancy)

1/4 cup coconut water (electrolytes!)

1/2 tsp ghee/ coconut oil or avacado oil

1/2 frozen banana

1/2 cup mixed berries

1 tbsp chia seeds
Put everything in a blender and blend at a high speed until smooth.
Shruti is the founder of Freshly Moms – a perinatal nutrition company providing healthy on-the-go snacks designed specifically for expecting and new moms keeping in mind their nutritional needs. She is a graduate from Natural Gourmet Institute, NY and a certified Nutritionist. She has been working with food & nutrition since 9 years and is also a new mom herself.