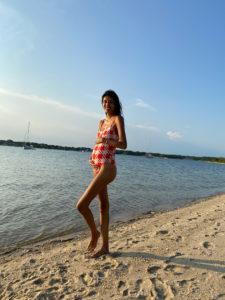 Our curated fitness programs are inspired by the fitness routines of new and expecting Mamas we love. The 30-day programs are completely customized, taking their current fitness level and personal preferences into account as well as what stage they are in their motherhood journey.
Our latest Prenatal fitness program was inspired by Babba C. Rivera, founder of the award winning NYC and Stockholm based marketing agency ByBabba and the new Latinx haircare brand Ceremonia (launching this Fall). Besides making it to Forbes "30 under 30" (at age 25!), being an active lifestyle influencer and a co-founder of the women's networking community Her USA, she can now add expecting Mother to her list of impressive achievements. Read on to get the details of how Babba finds time for self care and exercise in her busy schedule.
FPC: How many weeks pregnant are you?
Babba: 28 weeks
FPC: Congratulations! How are you feeling?!
Babba: Well, I have been feeling great all of the second trimester, filled with energy and basically always in a good mood. Now that I am transitioning into the third trimester I am starting to feel a little off balance. I am feeling more tired and definitely feeling the weight of the belly now, but otherwise doing well and feeling very joyful to be on this journey!
FPC: We are so happy for you! What was your exercise routine like pre-pregnancy? Any favorite studios?
Babba: I am such a class-girl! I love group classes with other people, and before COVID-19 I would always go to SoulCycle, ForwardSpace, and Rumble. I also really enjoy running and used to do what I call 'no-pressure runs' daily during the workweek to get the day started in a good way.
FPC: Don't we all miss group workouts! What areas do you like to focus on when you exercise?
Babba: Now during pregnancy I feel like the focus is strongly connected to body health and preparation for birth. Prior to pregnancy, my focus was mainly well-being and mental health. I don't have any specific body focus with my workouts besides releasing endorphins and having fun!
FPC: Yes, that's so important! Do you feel like you have to sweat to get an effective workout and do you enjoy sweating when you exercise?
Babba: Yeah, I'm definitely one of those people who don't feel like it's a "real" workout unless I break a sweat, which is why it's always hard for me to prioritize things like yoga and stretching, but I'm trying to become better at enjoying calmer workouts now during pregnancy 🙂
FPC: Do you use weights when working out? Or do you prefer body-weight only?
Babba: I like using light-weights, I really appreciate mixing cardio with weights, which is why I really enjoyed Rumble as a workout before pregnancy.
FPC: Are you familiar with your inner core unit, pelvic floor and diaphragmatic breathing?
Babba: Hmm… not sure. Jamie (note: FPC Master Instructor) taught me something called the kegel breathing which I have been practicing lately, but not sure if that is the same thing?
FPC: We'll work on that 🙂 How long are your typical workouts? How many times a week?
Babba: Now during pregnancy I have shifted my routine of workouts to be less intense and more frequent, focusing on 30 minute classes every day during the workweek. During the weekend I usually try to fit in a hike or some light swimming in our backyard pool.
FPC: Sounds Amazing! You're also working on launching Ceremonia (the future of Latinx hair care!!) this Fall. How is it juggling this new business with being pregnant for the first time?
Babba: It's been interesting to say the least, not to mention the fact that we are also experiencing a global pandemic at the same time. Hah! I guess I decided to bring all the change into my life at once. While the first trimester was challenging due to the fatigue and the fact that nobody on my team knew I was expecting, the rest of it has been totally fine. I actually feel very powerful being pregnant.
FPC: We love it! What does your self-care routine look like right now?
Babba: Now that self-care centers are back open I am trying to fit in a massage once a week, and acupuncture every 2-3 weeks. Other than that, my everyday routine includes a morning and evening belly oil moment and daily listening to my HypnoBirthing affirmations. I also like to do weekly face masks, using either Tata Harper's resurfacing mask or the Goop Super Glow microderm mask. Once a week I also do a hair treatment, using a very special formula that we will be launching with Ceremonia later this fall. Stay tuned!
The 30-Day Prenatal Program inspired by Babba is now included with a subscription to FPC Anywhere. Not yet a member? Start your 7 day free trial now.