This month, as a part of our 30-Day Postpartum Workout Programs inspired by real moms and moms to be, we're bringing you free recipes from Nouri, a ready-to-eat meal company offering whole, nourishing meals for each stage of motherhood. OB-GYN recommended, chef curated, ready-to-eat.
Once you had your baby it is really important to ensure that your food contains adequate nutrients and proteins to support your postpartum recovery. If you are nursing or pumping you also have to make sure that your daily intake is providing you with enough calories to support the milk production.
Life as a new Mom can be stressful with all the duties that comes with that and it is not easy keeping track of all the ins and outs of a healthy postpartum diet. That's why we've put together this 1-day recipe guide in collaboration with Pregnancy & Postpartum food delivery service Nouri, so that instead of recipe searching you can focus on your healing and enjoying that adorable new baby!
Breakfast: Lemon Tofu Congee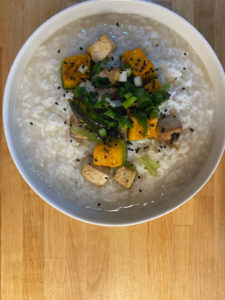 Congee is a very traditional breakfast porridge throughout Asia. It's the perfect first meal after labor with its easy digestibility and warming properties. Ginger is also a traditionally 'warm' food according to Traditional Chinese Medicine and warm foods will help with your digestion which is typically the most compromised after labor. In turn, it will help prepare you for that first bowel movement after birth!
Ingredients:
1 cup of white rice, brown or wild is fine

3 cups of water
1 tbsp of soy sauce or tamari
1 tbsp of black sesame seeds
½ of a lemon or ¾ cup of lemon juice
¾ cup of baked tofu or fresh tofu
¾ cup of baked squash
1 tbsp of ginger
1 tbsp of garlic
1 tbsp of chopped scallion
Method:
Add rice and water to a pot.

Grate fresh ginger and garlic.

Add soy sauce and scallions.

Mix well then set to boil and simmer.

Add more water as needed so rice becomes very soft, more than typical.

Simmer on low for about 30 minutes. Once rice has become soft with some liquid still in the pot, let it cool.

Once cooled, transfer to a small bowl. Add tofu, squash, scallions and sesame seeds.

Squeeze half a lemon all over – be careful to catch the seeds and enjoy!
Lunch: Root Vegetable Soup with Jujubes and Goji Berries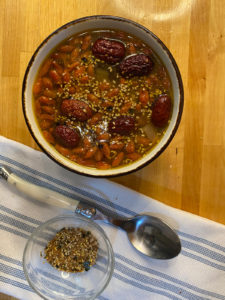 Jujubes or red dates are a very traditional postpartum ingredient that is warming and can replenish the heat that was lost in labor. The goal is to replenish, nourish and improve blood circulation which is vital the first few days after the delivery. They are also high in fiber and Vitamin C. Goji berries contain Iron, Vitamin C and over 500% of the necessary value of Vitamin A – an intense antioxidant powerhouse of a berry. These ingredients help add a delicious natural sweetness to this comforting soup.
Ingredients:
¾ cup onions, medium dice

½ cup of butternut squash, peeled and seeded and cubed
½ cup of sweet potatoes, peeled and cubed
½ cup of delicata squash or any squash is fine
¾ cup of radish – daikon or any other type is fine
freshly grated ginger or 1-2 tbsp of powdered ginger
5-8 jujubes
¼ cup of goji berries
1-2 tbsp of olive oil or ghee
Salt & pepper to taste
Optional Furikake or Sesame Seeds to garnish
Method:
Add oil to a small pot, add onions and grate fresh ginger and stir well until fragrant and onions are translucent.

Add butternut squash, sweet potatoes and delicata squash.

Add 2 cups of water to the pot or until vegetables are covered.

Season with salt & pepper as needed.

Boil then simmer until vegetables are soft for about 20 minutes.

Add 2 more cups of water, jujubes, goji berries and radishes.

Grate more ginger if you'd like.

Simmer until jujubes & goji berries are soft.

Add to a bowl – top with furikake mix or sesame seeds.
Dinner: Tofu Grain Bowl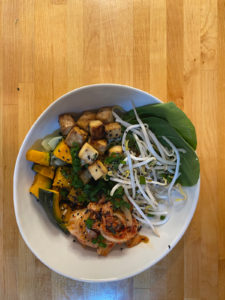 Organic tofu is key here – a perfect plant based protein full of manganese, calcium, magnesium and iron. Adding kimchi, another favorite fermented food packed with Vitamin C, K, B6 and iron. In the lacto-fermentation it uses Lactobacillus, a natural probiotic which is perfect for gut health. While Kabocha squash is the Traditional Chinese Medicine ingredient favorite which can assist in detoxification and when roasted can be a warming food.
Ingredients:
1-2 cups of cubed organic tofu, extra firm – well drained

1 tbsp of scallions, diced
2 leaves of baby bok choy whole or spinach
1-2 cups of kabocha squash, cubed
1 tbsp of kimchi
1 tbsp of soy sauce or tamari
1 tbsp of sesame oil
2 tbsp of fresh or pickled bean sprouts
1 tbsp of black sesame seeds
1 tbsp of freshly grated ginger or ½ tbsp of powdered ginger
1 cup of quinoa or brown rice mix
Method:
Preheat the oven to 350 degrees.

Drain the tofu well – open the package and place the tofu in a colander or strainer for up to an hour before starting the recipe. Option to also paper towel the excess liquid.

Cut the tofu into medium sized cubes – add to a small bowl or plate.

Create a marinade by adding sesame oil, soy sauce, some honey for sweetness, sesame seeds and ginger. Mix well with your hands to coat tofu evenly.

Add sesame oil to kabocha squash, salt and pepper to taste.
Add squash and tofu to a parchment paper lined sheet pan.
Bake for 30-45 minutes or until squash is soft and tofu is slightly browned.
Time to assemble the bowl! Use whatever grains available – quinoa, brown rice, wild rice is great here as a base. Add fresh baby bok choy or spinach. Add squash, tofu, bean sprouts and kimchi. Add scallions and black sesame seeds. Enjoy!
Snack: Date Coconut Bites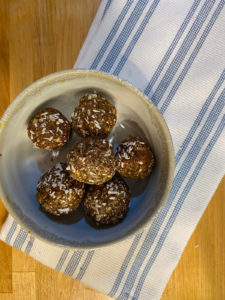 Medjool dates are the star of this snack, a natural sweetener full of fiber, iron, copper and potassium. It is also high in antioxidants containing flavonoids and carotenoids. This snack is the perfect way to fuel you during all hours of the first days home.
Ingredients:
1 cup of dates

½ cup of sunflower seeds
½ cup of pumpkin seeds
¾ cup of oats
½ cup of coconut flakes
2 tbsp of cocoa powder
Method:
Cut dates into small pieces, remove seeds.

Add to the food processor and pulse lightly into almost a paste like consistency.

Remove from the food processor and add to a medium bowl.

Add remaining dry ingredients to the food processor and pulse into coarse sand.

Pour dry mixture over the date mixture in the bowl.

Mix well with hands. Then grab about a tbsp of the mixture and roll with hands into small bite pieces.

Add extra coconut flakes if you'd like.

Refrigerate, freeze or enjoy right away!
Snack: Seeded Quinoa Fig Bites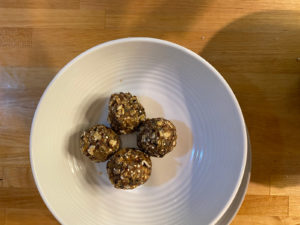 Quinoa rules this tasty snack, tricolor is a beautiful variety that is GF and a perfect plant based protein. It is full of fiber, iron, folate, zinc and potassium. Figs that are dried provide a sweetness that is more concentrated. Hemp seeds provide another source of protein and fiber. This snack will keep you satiated and totally fuel you so you can conquer your day. You'll want these goodies on repeat, trust me!
Ingredients:
½ cup of oats

¾ cup of tricolor quinoa – other color quinoa is fine
2 tbsp of chia seeds
3 tbsp of almond butter
½ cup of dried figs or other dried fruit is fine
3 tbsp of hemp seeds
2 tbsp of flax seeds
2 tbsp of maple syrup
Method:
Add all dry ingredients to a small bowl.

Add almond butter and maple syrup.

Mix well using a spatula or your hands!

Roll into small bite pieces.

Refrigerate, freeze or enjoy right away!
Get the video breakdowns for these recipes, along with a 30-Day Postpartum Workout Program inspired by Ashley Laracey (of NYCB) included with your subscription to FPC Anywhere. Not yet a member? Start your 7 day free trial now.