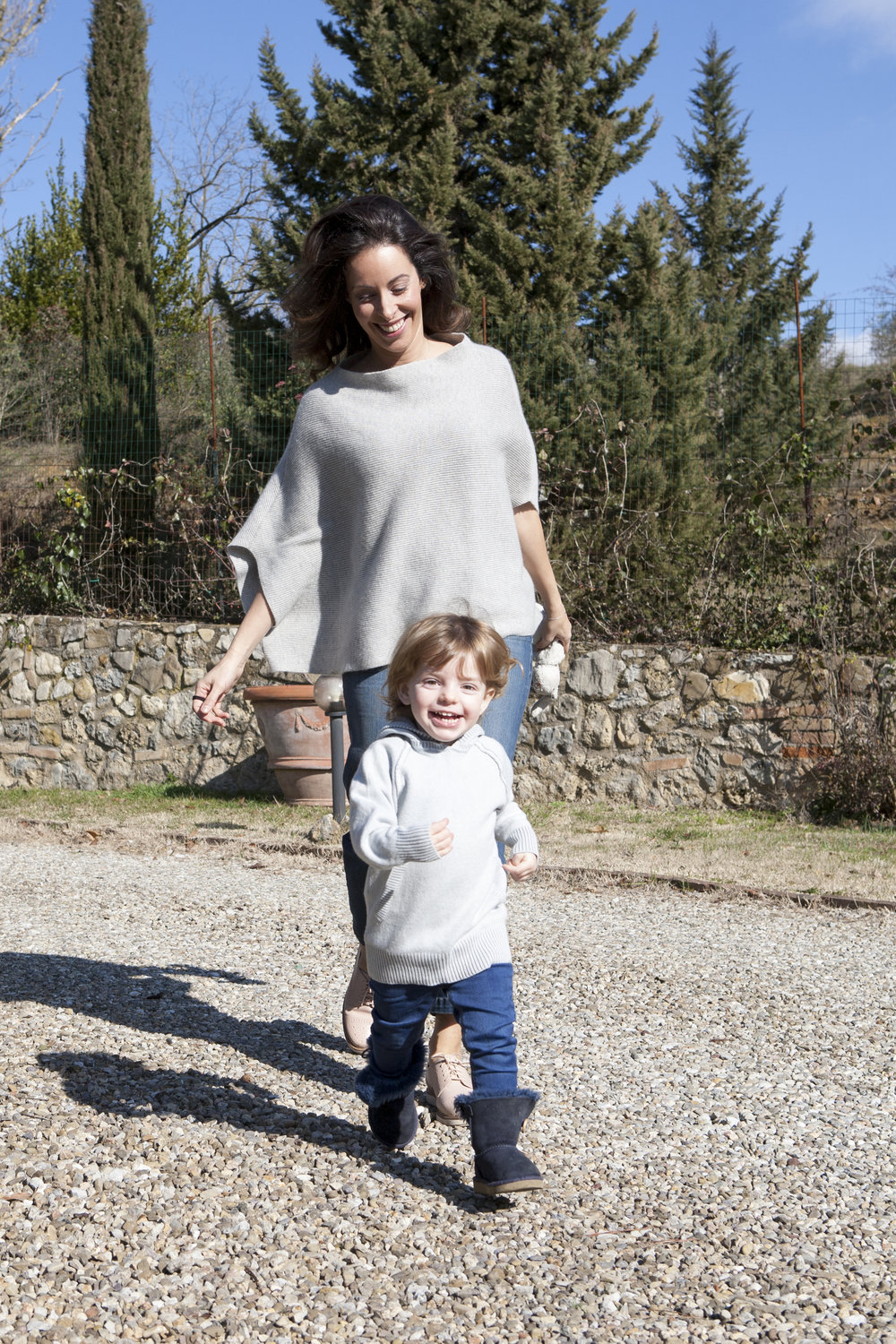 We love hearing stories about women who have built a business while also building a family. We sat down with Teat & Cosset founder, Peggy Economou to get a sneak peak into how this beautiful brand came to be.
How did you choose the name Teat & Cosset? I originally wanted to name the brand after my daughter, Dafne, but it seemed so anonymous and I felt like it would be lost in a sea of other brand names. I decided to make a list of all the names that described the brand and its values; breast, nursing, luxury, quality, pamper and then looked at synonyms for all the words. One of the words that stood out was 'teat'. It's a strong word that definitely caused some backlash, but you can't make everyone happy, and I decided to stick with it. I then paired it with "cosset" as I just loved the way it looked and sounded and it means, to pamper. Our goal is to pamper moms and help them feel like themselves again while they nurse so "Teat & Cosset" was the perfect marriage.
What was your relationship with fashion before motherhood? I've always loved fashion and my style has definitely gone through many changes since my teenage years! I used to buy a lot more going out clothes (including high heels!) before becoming a mother. I think now when I look at fashion, in addition to looking for something beautiful and well made, I immediately evaluate how easy it is to wear!
How did becoming a mom change your style? I would say my style is a lot more casual now, especially since I work from my home office. However, definitely not sweatshirts/sweatpants casual! I still try to look chic and put some thought into what I wear – When I look nicer my day usually goes better! I'm also probably a bit more adventurous in regards to colors and styles too. I think part of that is feeling more confident since becoming a mother and partly because I live in Italy!
One thing that has changed is the way I shop. I try to buy in sets – if I find a top I also want to find the bottom at the same time to make my life easier. There is a great little boutique in Siena called Futuro's and when I go there I always walk away with 2-3 outfits that I have on rotation until I go back! And wearing the same outfit 2-3 days in a row is totally acceptable in Italy, which I LOVE!
What is your favorite piece from your line? My favorite piece from our current Spring/Summer 2018 collection is the Carlotta dress. I just love how feminine and flowy it is. It's also really easy to wear and super versatile – the ultimate day time to night time to weekend dress. It's the kind of dress you can put on in the morning without having to think! I think that is key for a mother's wardrobe.
Other than easy access for nursing, what do you feel is the most important quality to look for when choosing nursing friendly fascia I think it's important to stay true to your style. How awful would you feel if you were forced to wear something that wasn't you? And that is what I think a lot of nursing moms have had to do in the past. Thankfully today there are a lot more options for cute nursing friendly styles.
I remember how delicate my psyche was after having my daughter. I still had a belly and I felt like I wasn't me any more. Part of that had to do with my limited clothing options and not really looking like myself any more. So I think when looking for nursing friendly styles moms shouldn't compromise their style.