Our recipe this week comes from our favorite pre/postnatal certified health coach, Carolyn Tallents of CLT Wellness. If you missed her "Total Nutrition for Pregnancy" workshop last week, you'll have to use this recipe to hold you over until we get her back into the studio!
---
Avocado Kale Pesto
Confession: there are few things I love more than pesto. It started when I was pregnant and I now put it on pretty much anything from noodles and zoodles to sandwiches and salads. However, like most things that taste amazing, a pre-made pesto from a packet, jar or restaurant is often filled with additives, preservatives and other weird things you can't pronounce. And since pesto is usually heavy on the oil, your daily caloric intake can be surpassed with just one large portion.
In order to be able to eat pesto multiple times per week and still feel like I was doing my body and my baby good, I created a version that is high in healthy fats, folate and iron. The best part is you can add it to other dishes or eat it as a dip with veggies or whole grain crackers. One of my ways to eat it is to saute zoodles with cherry tomatoes, sun-dried tomatoes, chickpeas and black olives and add in the avocado kale pesto. I usually add in chicken but it's also great with salmon, tofu or quinoa for a vegetarian option.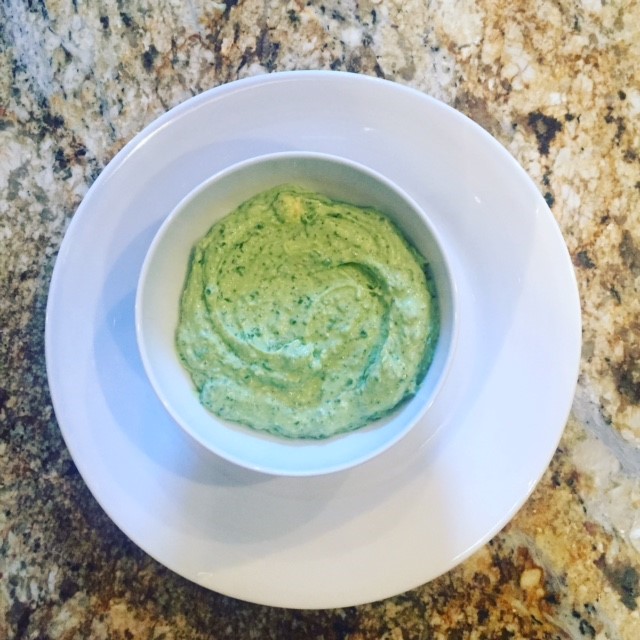 Ingredients for 2 servings:
1 large avocado or 2 small
1 cup of fresh basil
1.5 cups of kale leaves
¼ cup chopped walnuts
¼ cup olive oil
1 or 2 lemons
2 garlic cloves
Salt
2-3 tbs of water
¼ cup plain greek yogurt (optional for a more creamy texture)
Instructions:
Add the avocado, basil, kale, walnuts, olive oil, lemon juice and garlic to a food processor or blender with a pinch of salt and blend until smooth. Add in the water as needed to create the consistency you're looking for – thicker for a dip, thinner for a sauce.