Does the holiday fun have to stop just because you are pregnant? We think not. Here are some mocktail recipes to get you through the last few weeks of the holiday season.
SPARKLING BERRY AND POMEGRANATE MOCKTAIL from Casa De Crews
Ingredients
2- 12 oz cans DASANI® Sparkling Berry, chilled
4 oz. pomegranate juice, fresh
Cranberries, for garnish
Sprig of thyme, for garnish
Instructions
To a highball glass, add ½ serving of DASANI® Sparkling Berry, 1 oz pomegranate juice, and 2-3 cranberries.
Top with 1-2 sprigs of thyme for garnish. Will make four mocktails.
Enjoy!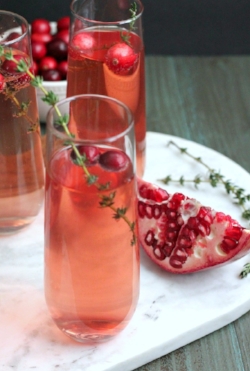 FRENCH 75 MOCKTAIL from Always Order Dessert
Ingredients
2 cups ice
3 ounces fresh lemon juice
4 dashes lemon or orange bitters
2 (6-8oz) bottles premium tonic water (such as Fever Tree or Q Tonic)
2 rock candy swizzle sticks
Instructions
Add fresh lemon juice and bitters to cocktail shaker filled with ice. Shake until frosty then divide into two champagne flutes or coupe glasses.
Top off with tonic water until it reaches about 3/4 of the way up the glass.
Garnish with the swizzle sticks and serve immediately.
NOTE: Can't find rock candy? Add 1 teaspoon superfine sugar along with the lemon juice and bitters in the shaker.
SLOW COOKER GINGERBREAD LATTE from The Rookie Cookie
Ingredients
8 cups whole milk (although FPC suggest switching to plant-based milk like almond or oat)
1/4 cup pure maple syrup
2 tablespoons packed brown sugar
3 teaspoons ground ginger
1 teaspoon pure vanilla extract
2 cinnamon sticks
pinch cloves
1/2 teaspoon fresh ground nutmeg
3 1/2 cups strongly brewed coffee or espresso
whipped cream, graham cracker crumbs, caramel sauce, and gingerbread cookies for garnish (optional)
Instructions
Add all ingredients to a large slow cooker.
Cook on low for 3 hours or until heated through. Monitor to make sure it doesn't boil.
Turn slow cooker to warm setting and cook for another 2 hours, stirring occasionally.
Stir again right before serving and taste.
Dip rims of cups in caramel sauce and then in graham cracker crumbs to create the look above (optional). Top with fresh whipped cream and caramel syrup if desired. For extra fun, top with gingerbread cookies.
Enjoy!